Colchester has a vibrant food scene that caters to all tastes and budgets. As a student, it's important to find affordable options that won't hurt your wallet.
Luckily, the city offers a variety of dining options that won't break the bank. From budget-friendly breakfast spots to late-night dining options, this guide will provide you with the best places to eat when living in Colchester as a student.
Best places to eat in Colchester: summary
Breakfast options
Timbers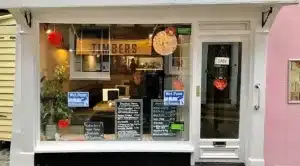 Timbers is a family-run restaurant that serves a wide variety of dishes, ranging from high-quality breakfasts to international cuisine. Their breakfast menu includes a full English, breakfast butties, vegan breakfasts and more. It's perfect for students, with a full English starting from £5.95 (at the time of writing this blog).
The Sandwich Co.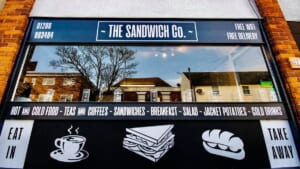 Located by Colchester's river colne, this cozy little cafe offers a range of breakfast options. If you're looking for a classic breakfast, they offer dishes like a full English, bagels, and eggs any style. But if you're feeling adventurous, you can try one of their signature dishes, such as their breakfast wraps. And if you're feeling particularly lazy, you can enjoy Sandwich Co. without having to leave your student accommodation – simply order on Just Eat!
Eat Inn Diner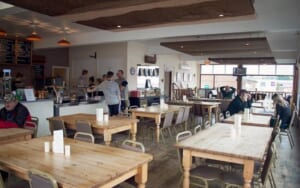 This cosy diner offers a range of delicious comfort foods that are sure to satisfy any hungry student. It's open for breakfast, lunch and dinner, but Eat Inn Diner's "famous breakfasts" are definitely what stands out. They offer a range of Full English breakfast options, alongside their Giant Breakfast Huffer, which they describe as "a giant of a roll filled with 2 sausages, 2 bacon & egg".
Lunch and dinner options
Bill's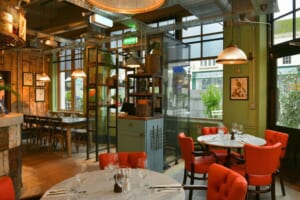 Bill's is a popular destination for students looking for a unique dining experience. This vibrant restaurant offers a variety of eclectic British dishes, all made with fresh and seasonal ingredients that are sure to tantalise your taste buds. Whether you're in the mood for classic comfort food or something a little more adventurous, their menu will not disappoint! Bill's offers a generous 20% student discount with UNiDAYS. This discount makes dining at Bill's even more affordable and accessible for students who are on a budget.
Rim Jhim Spice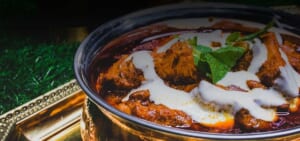 If you're a student looking for a fantastic Indian restaurant in Colchester, Rim Jhim Spice is the perfect spot for you! This lively place offers a welcoming atmosphere that's perfect for hanging out with friends and enjoying some delicious food. Rim Jhim Spice's menu is packed with mouth-watering dishes that will take your taste buds on a journey through the vibrant flavours of India. From spicy curries to fragrant biryanis, you're sure to find something to satisfy your craving for delicious Indian cuisine.
Seafood at Dawn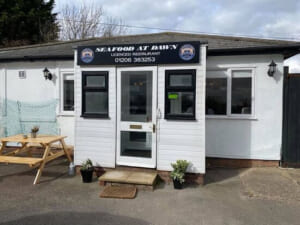 Seafood at Dawn is a top-rated seafood restaurant that offers a diverse selection of dishes. If you have a hankering for seafood, this restaurant has everything you need to satisfy your cravings. Seafood at Dawn is rated highly by its customers and offers fantastic prices that are perfect for students on a budget.
Bambu Vietnamese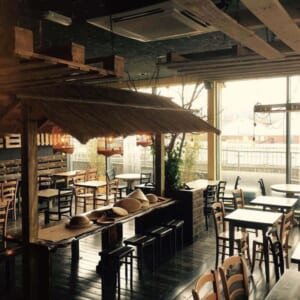 Bambu Vietnamese serves up delicious Vietnamese dishes. Located conveniently in town, it's easily accessible, and there's a good variety of dishes to choose from. This vibrant place is known for its delicious food and stylish atmosphere, making it the perfect spot for a meal with friends. Its menu features classic Vietnamese staples, including pho, curries and noodle dishes. And with its affordable prices, it's the perfect destination for students looking for a great meal that won't break the bank.
Turtle Bay
Turtle Bay is an excellent spot for food and drinks. This laid-back Carribbean restaurant has everything you need to kick back and relax with friends after a long day of studying. Turtle Bay's menu is packed with Caribbean-inspired dishes, from spicy jerk chicken to zesty fish tacos. Plus, they offer a broad selection of cocktails, making it the perfect destination for dinner, or a night out! Escape the stresses of student life and just chill out for a while.
Dr Chippy's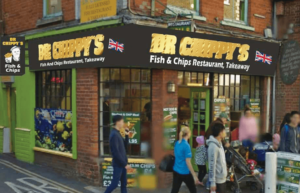 If you're craving some classic fish and chips, then you have to check out Dr Chippy's. This local spot serves up some of the best traditional fish and chips in town, and it's the perfect place to grab a quick bite between classes. Dr Chippy's has a wide range of options to choose from, including classic fish and chips, fish burgers, and even battered sausages for those who want to mix things up. And with both dine-in and takeaway options available, you can enjoy your meal wherever and however you like. A great destination for students looking for a tasty and affordable meal.
Nando's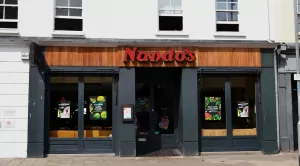 Nando's in Colchester is the ultimate spot for students who want to enjoy delicious flame-grilled peri-peri chicken in a fun and laid-back atmosphere. With a range of options, from mild to extra hot peri-peri sauces, and a variety of sides and desserts, Nando's is the perfect spot to hang out with friends and enjoy some flavourful food. Plus, their student-friendly prices make it an affordable dining option for students on a budget.
Vegetarian and vegan options
Hank's Dirty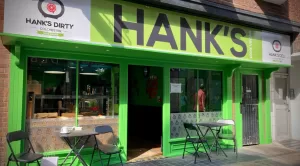 Hank's Diner in Colchester is a must-visit spot for vegetarian and vegan students. Self-proclaimed "vegan fast food heaven", Hank's offers a delicious range of tasty snacks, including vegan burgers, kebabs, ribs, dippers, and more. If you fancy a night in, you can order Hank's Dirty for delivery. Plus, they currently offer 20% off your meal when you sign up to their Club Hank's loyalty scheme.
The Olive Branch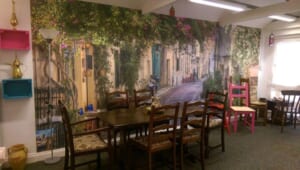 The Olive Branch in Colchester is the ideal spot for students who are looking for delicious and healthy Syrian-inspired vegan cuisine. The warm and inviting atmosphere of The Olive Branch is perfect for enjoying a meal with friends or escaping the stress of student life. The restaurant is decorated with natural materials and warm colours, making it a relaxing spot to unwind.
Places to eat near Avon Way House
Avon Way offers quality student accommodation in Colchester. There are plenty of delicious restaurants and takeaway options nearby for residents to enjoy. Some nearby options include:
Bill's restaurant

The Breakfast Co.

Starry Mart

Pizza Night Plus

Bambu Vietnamese

Knight Pavilion Restaurant 

Portofino Grill

Kebab Express
Conclusion
In conclusion, Colchester offers a wide variety of dining options for students looking for delicious meals on a budget. From traditional British pub food to international cuisine, there is something for every student to enjoy. There's a huge range of choices across breakfast, lunch and dinner time, and lots of places to cater for dietary requirements.